With the roar of the crowd, the palpable excitement, and the enthusiasm experienced together, the football fan experience is unmatched.
Football is very popular. There has to be a way to bridge the gap between fans and their favorite teams, break the barriers of distance and cost, and foster a new era of fan engagement. This path appears with Football at AlphaVerse (FAV).
Football at AlphaVerse brings football fans from around the world together to interact, play exciting games and bond with the teams they love. This is not considered a typical fan experience. AlphaVerse users are greeted with a treasure trove of exclusive content to satisfy their football passions.
However, the excitement does not end here. Every action in this vibrant ecosystem becomes a step towards gaining both digital and physical products. The platform turns every game into another opportunity by encouraging users to leverage their skills. This participation not only strengthens the fan experience. It also carries long-term value for committed participants.
FAV is a cutting-edge, immersive digital world that revolutionizes the way fans interact with their favorite football clubs. Designed as part of the emerging AlphaVerse ecosystem, the platform is freely accessible through the AlphaVerse Hub.
The goal of FAV is to enhance the fan experience, foster closer interactions with teams and players, and connect fans like never before via blockchain.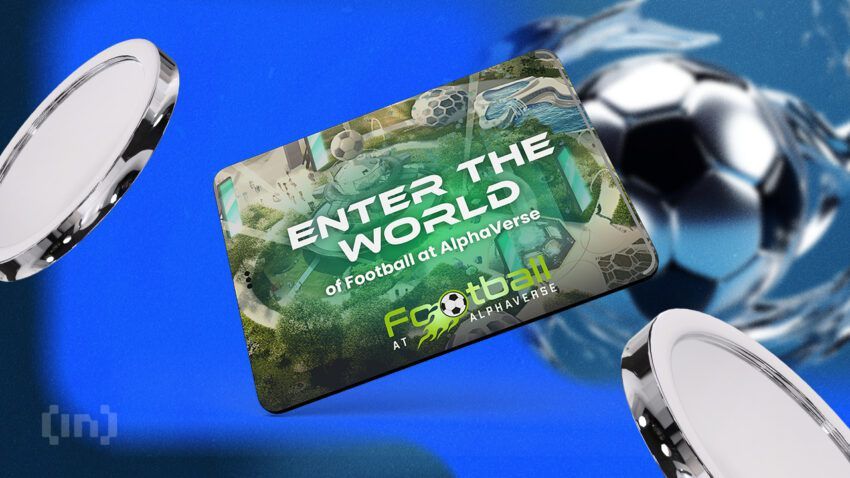 The Virtual World of FAV: FAV Island and FanZones
The FAV universe is divided into two distinct regions. The larger area is called FAV Island, and the smaller and more intimate area is called the FanZone. The former acts as a lively hub for all things football. From content that fuels your interest in football to exciting competitions and rare memorabilia, FAV Island is a bustling marketplace for fans worldwide.
FanZones, on the other hand, are private islands carefully chosen to epitomize the unique atmosphere and spirit of each participating football club. Designed in partnership with clubs, these zones promise to provide an immersive experience that reflects the team's identity. Clubs such as the Spanish team Real Betis and the Brazilian team Sao Paulo Football Club have already participated in the FAV.

Experience and Interaction in FAV
FAV promises a host of attractions, from virtual tours of iconic stadiums and reliving historical moments in football to interactive sessions with legendary players.
Being a part of FAV provides an opportunity for fans to support their team. They can also win exciting rewards with engaging games and access exclusive content.
The Role of FAV Tokens in Football at AlphaVerse
User experience is enhanced with FAV tokens. This token is also seen as your entry ticket to the project's ecosystem. FAV tokens can be used to purchase NFTs, whether they are used in in-game microtransactions, stake tokens for competition, or progress in addictive minigames.
Additionally, the token gives you the chance to participate in the FAV Island DAO, which influences the decisions that shape the future of the platform.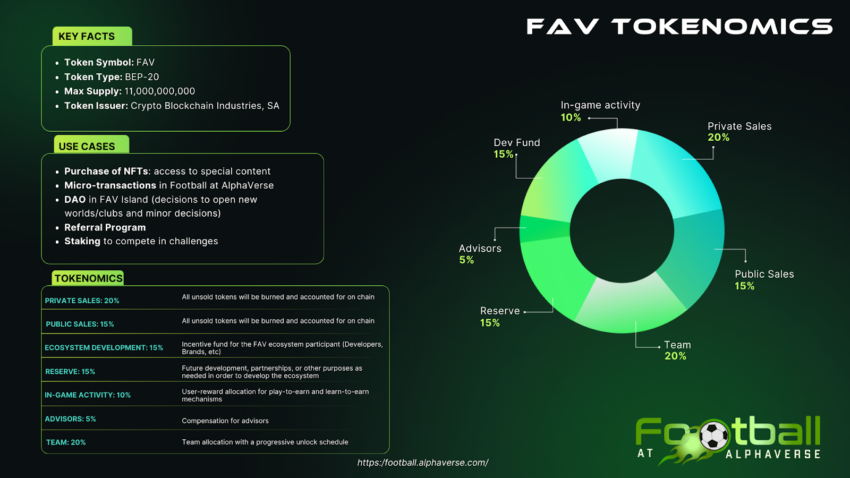 Unique NFT Collections at FAV
FAV offers a diverse collection of NFTs. Thanks to the Seats collection, users can enjoy exclusive benefits and participate in NFT airdrops. They can also choose their favorite seats in stadiums. VIP and Presidential Seat holders get early access to new FAV features and enjoy many benefits, including invitations to exclusive online and physical events.
Banners collection for business is an innovative advertising solution. It allows companies to showcase their brands at various FAV stadiums. They can also enjoy additional B2B benefits.
Finally, the Walk of Fame collection allows users to write their name or nickname on the virtual stadium ground floor. These unlock rewards such as exclusive access to the DAO curated by the FAV museum.
Football at AlphaVerse (FAV) is ready to step onto the global stage with its first NFT sale. On July 3, a total of 3,000 Mystery Boxes worth $50 each will be listed on Binance NFTs. Each of these boxes has a Fan Seat, Premium Seat, VIP Seat, or the rare Presidential Seat NFT so it can provide an exceptional fan experience. With the statement that emerged one week after the sale, the expectation began to increase.
Special NFTs, each representing a slice of the total supply, offer their holders a range of privileges in the FAV universe. These range from access to exclusive content, beta testing rights, premium community access and exciting giveaway participation.
Also, owning a FAV NFT takes you to a point where the virtual world meets the physical. monthly gifts; offers opportunities to win jersey gifts, matchday tickets, invitations to physical events, and visits to club facilities.
Thus, the platform aims to take the digital fan experience to a new level, starting with Binance NFTs on July 3.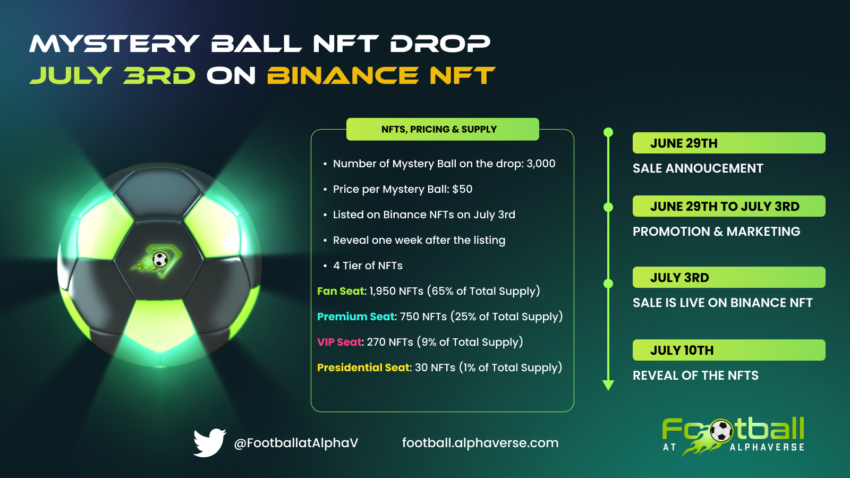 FAV's Monthly Gifts: Real-Life Rewards and In-Game Benefits
In addition, FAV offers monthly giveaways that bring real-life rewards and in-game benefits to users. Owning a FanZone NFT entitles users to participate in exclusive gifts for that FanZone, giving them the chance to win matchday tickets, jerseys and other merchandise exclusive to that club.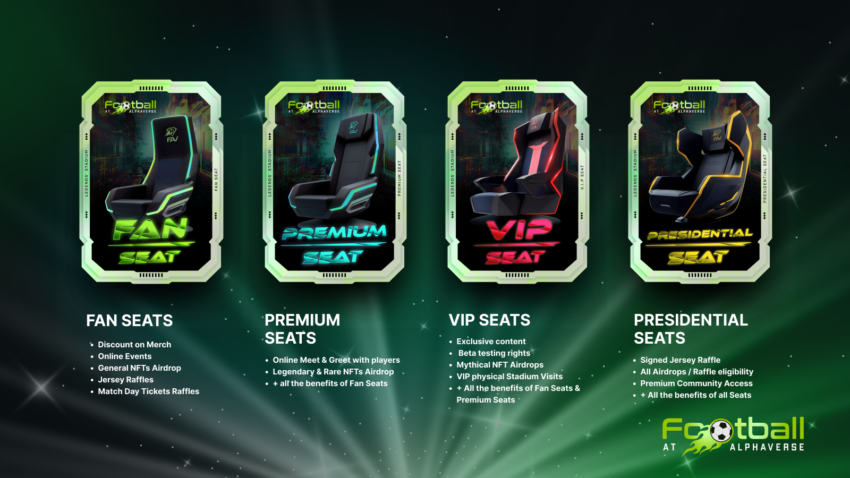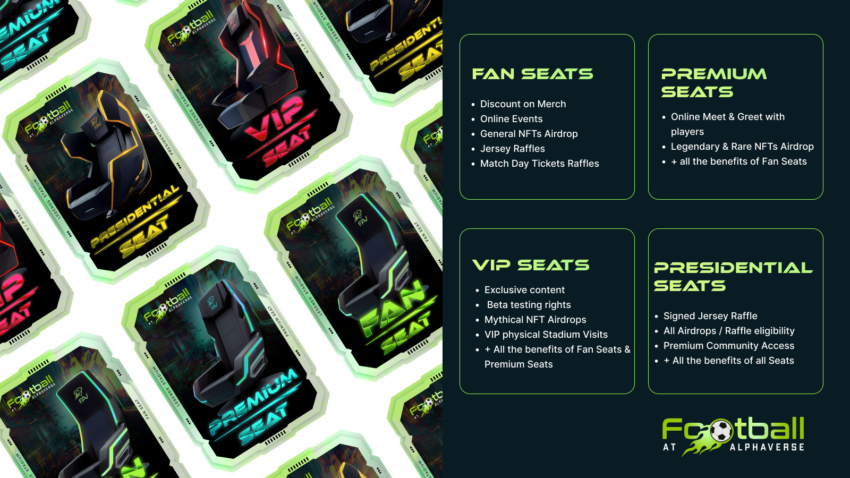 The Future of Football Fandom Football at AlphaVerse
As the world shifts towards a digital age, Football at AlphaVerse boldly embraces this change. Thus, it creates a dynamic platform that brings football closer to its fans.
Combining the digital and physical aspects of fandom, FAV takes on the mission of redefining football interaction, taking the passion and love of sports to a whole new level.
Disclaimer
Disclaimer: This article is sponsored content. It does not reflect the views and opinions of BeInCrypto. While we adhere to the Trust Project guidelines for creating unbiased and transparent reports, this content was created by third parties and is for demonstration purposes only. Readers are advised to independently verify the information and consult a professional before making this contextual decision.