GWI reports that consumers spend 2.5 hours a day on social media. This time becomes invaluable for social media companies. Companies and phenomena make money by producing content, but users do not earn any income.
Now is the time to change that, with brand new Web3 startups allowing consumers to make money online. Let's take a look at the ways people can earn in SocialFi today and see how the Attention Economy concept provides a source of income not only to content creators but also to all casual social network users.
How are the Earnings Realized in SocialFi Applications?
Several startups are building the Web3 social networking ecosystem. Among the most important are known as Cheelee, Steemit, Minds, Akasha, Synereo and Indorse. Users of all platforms except Cheelee produce, edit and share content to earn money. Therefore, content production is required to make money on these platforms. It is interesting that billions of people use social media but only a small percentage of them make money from it. This small percentage is also made up of creators.
Cheelee is way ahead in this regard because in this social network ordinary users are the main beneficiaries of the system. Following a philosophy called Attention Economy, Cheelee pays users for watching content.
Why is Attention Important?
Attention Economy refers to the concept that in a world of information overload, attention is a scarce resource that must be managed and allocated prudently. The term was first coined by economist Herbert Simon in 1971, arguing that attention is a valuable commodity that can be traded like any other resource.
Cheelee is a platform of short videos developed with Attention Economy in mind. The venture has really tried something different in terms of how it communicates with its audience. It focused their attention on a new strategy to attract new users. Accordingly, Cheelee decided to monetize the audience's attention. Thus, users had the chance to earn money just by watching the broadcasts on Cheelee.
Chelee Test Drive (Personal Experience)
Cheelee's first impression is that everything is simple. The app is similar to TikTok. You can stream and create videos, but there are also two important parts: NFT and Wallet. Profit becomes possible through them.
The app is available on both iOS and Android. I have to go through a standard registration process where I watch a stream of short videos adjusted to my preferences with Cheelee. I love watching mind-blowing videos of beautiful landscapes shot with drones and videos of food and pets. After a few days, I watched the ones I liked the most by giving likes under such videos, watching them until the end, and swiping the ones that didn't interest me. This AI-based app is what made the TikTok app so popular at the time. But on Cheelee, I need to be rewarded when I view streaming videos. Let's see if all this is true.
First Boxes with Free Tokens
Winning on Cheelee requires NFT glasses that I kind of "wear" while watching videos. I go to the "NFT" tab at the bottom of the main screen. I see the start box, open it and claim my Starter NFT glasses.
I go to the stream and watch videos. 5 minutes later I get a box. I open it and the LEE tokens "drop" from there. More precisely, one percent of these tokens are falling. The next few times I log into the app I get two more boxes. No matter how many times I watched the videos afterwards, no more boxes fell.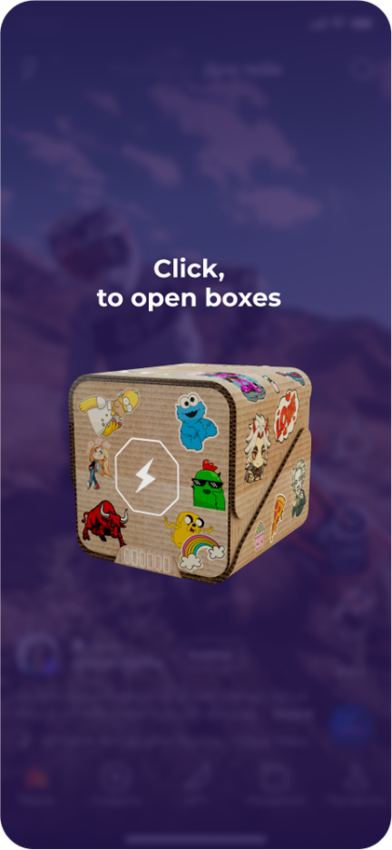 Cheelee claims that Startup glasses are necessary to understand the working order of token acquisition. But I realized that it is impossible to win anything important with them. I actually noticed that these glasses are used to get to know the app and gain mechanisms. It is impossible to withdraw LEE tokens earned with starter glasses, but you can use them to upgrade your NFTs. LEE is the utility token that the app charges for views. You can see the token price on CMC. How much I earn in free mode is in the image below.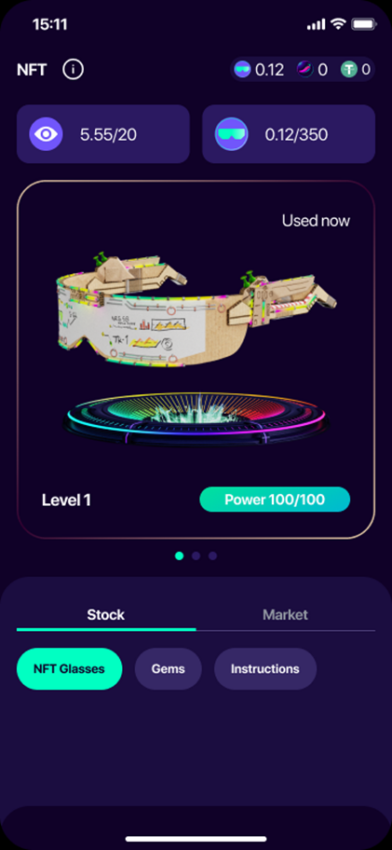 Earn From Marketplace with NFT Glasses
I decided to compare how much I would earn in the same time period in Starts and Rares. High rarity NFT glasses are needed to make a substantial amount of money. The steeper the windows, the more they pull. Cheelee, with high rarity glasses, I can earn twice as much says. They even showed that one of their users had a maximum daily earning of 600 LEE ($1560 at the current LEE exchange rate) in May. I would not refuse such additional income!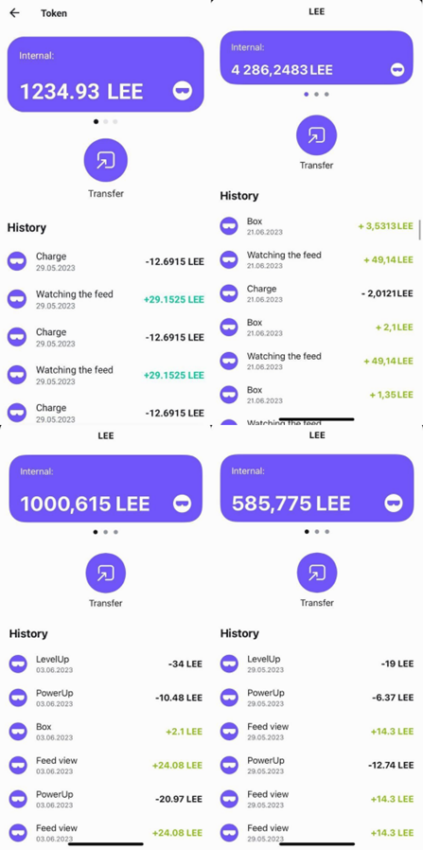 With the help of high rarity glasses, the winning mechanism is simple: charge it in time and don't forget to upgrade it. And from what I've seen, we're talking about quite substantial amounts of money. Doubling is over $900. I can get $463 watching clips with rare glasses. And if I invest in Uniques that cost $1,854, I can earn around $3700!
Creating Wallet and Purchasing NFT with Debit Card
The first decision to buy NFT glasses with high rarity is the cryptocurrency wallet. There are two wallets: internal and external. The internal one stores CHEEL, LEE and USDT and the external one is for withdrawing, receiving and swapping tokens. External wallet can be created in the app or I can get my own wallet. I am creating a wallet from scratch. I connect 2FA, type the seed phrase and password, and of course carefully record the information.
I purchased Rare glasses by going to the Marketplace tab in the NFT section. It costs 463.5 USDT and Cheelee allows it to be purchased with a debit card.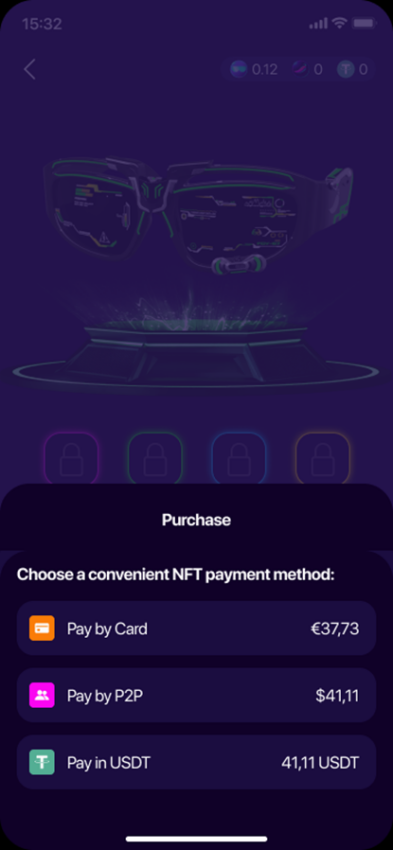 There are 2 options to buy with fiat currency:
Pay by card: Mine automatically offers to pay in Euros.
P2P payment: Banks in these countries are listed depending on the selected currency.
What Did I Earn?
My expectations from Rares were not met immediately. I needed to figure everything out and develop my own strategy to level up the glasses. From my communication with the Cheelee community, I learned that it is now profitable to develop Lenses and Radar modules.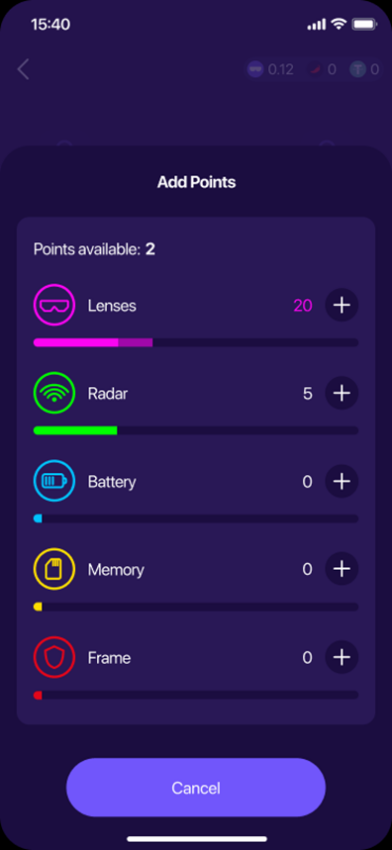 I earned 52 LEE in a few days when videos were watched sporadically. At today's token exchange rate, that's $1360.
It was interesting that I actually earned something just by watching videos. Upgrading my glasses modules requires "points" that I get for raising my glasses level and can spend on any module I want to create my own unique winning strategy.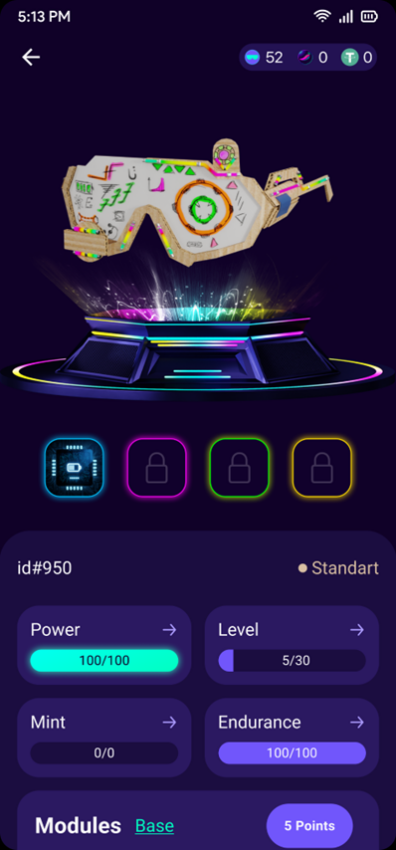 I improved the radar module because it increases the probability of boxes falling. This is exactly what I need. Then the Lenses module: LEE increases my win rate. This was my first strategy and I think I've been pretty successful at it.
Chelee Pros and Cons
What do I think is missing in the application?
A yield calculator that will allow me to plan my rate of return more consciously;
Communicate with personal messages;
To respond to comments;
NFT purchase directly in the app without switching to the browser;
Replacing LEE with CHEEL within the application;
AI masks in video editor.
Chelee pros:
Pleasant and clean interface;
Easy registration process;
AI-based video recommendations;
Pretty useful video editor.
my results
Maybe even beginners can make a profit on Cheelee because the wallet creation and NFT purchase processes are as user-friendly as can be. You will need to test the app a bit to understand how the process works. But it's still worth it because you earn tokens by doing things you used to do for free.
It's nice to win while resting. That's why I'm now connected to attention economy. And yes, my verdict is that you can and should monetize your own attention. So I think soon most social networks will have to implement something similar to what Cheelee is already doing.
Author: Hanna Karasevich
Disclaimer
Disclaimer: In accordance with Trust Project guidelines, BeInCrypto guarantees unbiased and transparent reporting on news. This news article aims to provide accurate and up-to-date information. However, readers are advised to independently verify all information and consult a professional before making any decisions based on this context.