While a long economic crisis is affecting the financial markets, there are signals that the crisis is slowly over in the last period. However, despite the sharp rises in the US stock market and precious metal prices, the Bitcoin and cryptocurrency market continues to be suppressed. All eyes are on the interest rate decision to be announced by the Fed.
The US Federal Reserve Bank (Fed) will announce its interest rate decision on Wednesday, July 26 at 21.00 Turkish time. Expectations are most likely that the Fed will increase interest rates by 25 basis points, reducing interest rates to the 5.25-5.50 range. However, cryptocurrency markets and traditional markets are waiting for the Fed's messages regarding the next period's policies.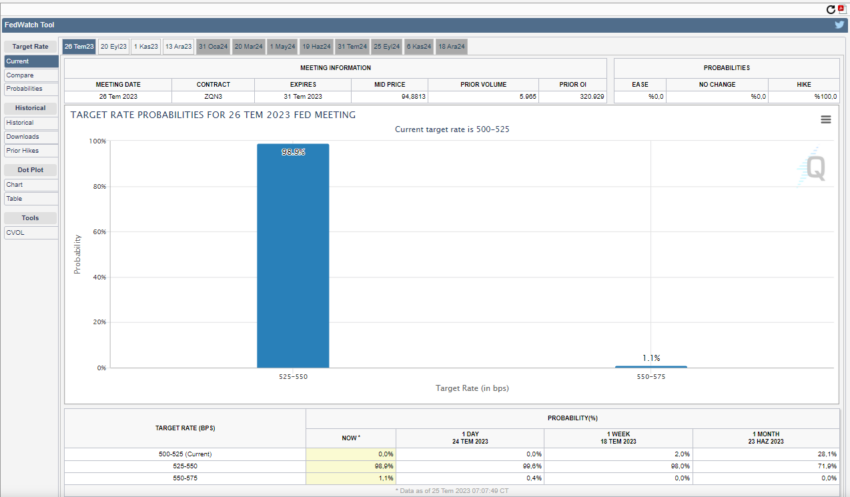 After the Fed's interest rate decision, at 21.30 CEST, the press will answer questions from members of the press. Fed Chairman Jerome Powellmay signal whether they will make a new rate hike for 2023.
In the past, Powell shared with the public his interest rate projection and his attitude towards inflation with similar expressions. If the message is given that they have stopped the interest rate hike for the next period and that they will switch to interest rate cuts and monetary expansion policy in 2024, an increase may be seen in the markets.
However, the fact that Bitcoin and cryptocurrencies have recently reduced their compatibility with traditional markets brings about comments that this effect may have a limited effect.
Disclaimer
Disclaimer: In accordance with the Trust Project guidelines, this article offers the views and perspectives of industry experts or individuals. BeInCrypto is committed to delivering transparent reports to the reader. However, the views expressed in this article may not necessarily reflect those of BeInCrypto or its employees. Readers should independently verify information and consult a professional before making this contextual decision.